Mazda Motor Corporation has announced that it will enter the Mazda Spirit Racing MX-5 CNF concept", which uses a carbon-neutral fuel instead of conventional petrol, from Round 4 of the ENEOS Super Taikyu Series 2023 at Autopolis this weekend.
"Through motorsports, Mazda aims to revitalize motorsports activities so that more people can experience the joy of driving. At the same time, by working on carbon neutrality in motorsports, we are working to create an ideal image of a sustainable society into the future, and to raise awareness and increase awareness of motorsports activities that suit the changing times".
The ST-Q class in the Super Taikyu Series is designed for cars powered by alternative fuels. Mazda Spirit Racing already competes with the Mazda3 Bio concept, which uses next-generation biodiesel fuel, now it will be joined by the CNF powered MX-5.
To achieve carbon neutrality, Mazda believes that it is important to provide customers with a variety of options, and will accelerate efforts not only for electrification but also for carbon-neutral fuels. In addition to developing technology options that can handle a variety of fuels for the future, we will utilise vehicles with a wide range of characteristics, such as torqueful front-wheel-drive diesel vehicles and lightweight rear-wheel-drive gasoline vehicles, to develop driving performance that makes Mazda feel the joy of driving.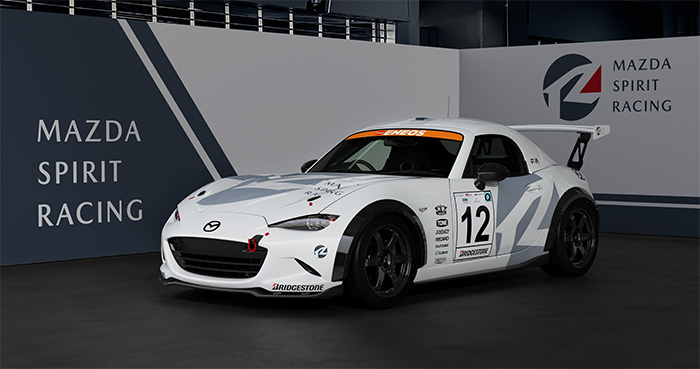 MAZDA SPIRIT RACING MX-5 CNF concept
Participating vehicle name
MAZDA SPIRIT RACING
MX-5 CNF concept
class
ST-Q
engine
"SKYACTIV-G 2.0"
Total displacement (L)
1.997
Fuel used
Petrol alternative carbon neutral fuel
team name
MAZDA SPIRIT RACING
directed by
Tsutomu Kida
driver
Ikuo Maeda, Ryohei Sakaguchi,
Yui Tsutsumi
In the ST-Q class of the super endurance race, we are working on the development, recognition, and popularization of carbon-neutral fuel while competing and cooperating with other Japanese automakers. The carbon-neutral fuel used to replace gasoline this time will be the same fuel used by Toyota Motor Corporation's "ORC ROOKIE GR86 CNF concept (1.4L in-line 3-cylinder direct injection turbo engine)" and SUBARU Corporation's "Team SDA Engineering BRZ CNF Concept (2.4L horizontally opposed 4-cylinder naturally aspirated engine)", which are already participating in the ST-Q class. 
In addition, from the perspective of training "people and cars" through racing, all vehicles of Mazda Spirit Racing are developed in-house. Engineers involved in mass production development are engaged in the training of human resources and technology that can be used in future car manufacturing. The system for running the race was also constructed by our employees and the service mechanics of Hiroshima Mazda Co., Ltd.
In the UK, Mazda UK has switched its Heritage Fleet to run on sustainable fuel, while in November 2022 Mazda UK drove an MX-5 for 1,000-miles around the UK powered by sustainable fuel.